Video-1053 Supreme Master Ching Hai's Plea to Protect the Cape Fur Seals
No. 1053
Category / International Media Interviews
Event date / --
Place / Europe

Language / English
Time (mins) / 26
Published date / 2015.10


Smartphones

/ Aulacese,Chinese-S,Chinese-T,English,Spanish |

Tables

/ Aulacese,Chinese-S,Chinese-T,English,Spanish |

PCs

/

Arabic,Aulacese,Bulgarian,Chinese-S,Chinese-T,Croatian,Czech,Dutch,English,French,German,Hebrew,Hindi,Hungarian,Indonesian,Japanese,Korean,Malay,Mongolian,Persian,Polish,Portuguese,Russian,Sinhalese,Spanish,Thai

If you have any questions regarding downloading or website use of EdenRules, please contact us.
You are welcome to download audio and video files for free of charge
Accepting an invitation from the organization Seal Alert to speak on behalf of endangered Namibian seals, Supreme Master Ching Hai spoke via video message in a plea for their protection from slaughter. The word Namib means "shield," and Supreme Master thus expressed her wish that Namibia could be a shield of protection for these innocent creatures as well as protecting the deep humanity and nobility for all of Africa.

Animals are one of the building blocks of our world's evolution and progress. They came to the Earth for a specific purpose and provide important energies to help keep our planet balanced. Seals are among the most noble and most loving beings within the animal kingdom. Their LQ, or Loving Quality of unconditional love, is 300%! This is one of the reasons why it is so important to protect the seals and to ensure their continued existence on the planet.

Supreme Master emphasized that we should live together with all animals in love and harmony. This is the only way to have peace on Earth and to protect our survival as well as the survival of all beings. Supreme Master prayed that humans and all on this planet are blessed to live forever in peace, love, harmony, prosperity, abundance, and health.

Books for Online Reading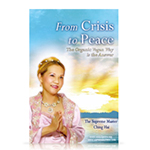 Books for download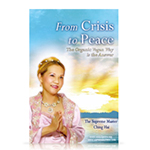 From Crisis to Peace: The Organic Vegan Way is the Answer